Tips to Go Bookmarks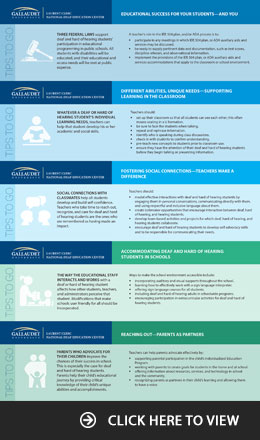 Bookmarks: Supporting Educational Success, part of the Tips to Go series, is a set of tips designed for teachers in general education settings who may be working with deaf and hard of hearing students. Each bookmark offers a synopsis of key points impacting the successful inclusion of deaf and hard of hearing students. The bookmarks can be downloaded or laminated copies are available upon request from the Clerc Center at infotogo@gallaudet.edu, Also provided are links to in-depth online information.
These bookmarks were developed by the Clerc Center in collaboration with Washington's Center for Childhood Deafness and Hearing Loss (CDHL). Both the Outreach Team from Washington Sensory Disabilities Services and the Washington School for the Deaf are under the umbrella of CDHL.

Educational Success for Your Students--and You
Three federal laws support deaf and hard of hearing students' participation in educational programming in public schools. All students with disabilities will be educated, and their educational and access needs will be met at public expense.


Different Abilities, Unique Needs--Supporting Learning in the Classroom
Whatever a deaf or hard of hearing student's individual learning needs, teachers can help that student develop his or her academic and social skills.


Fostering Social Connections--Teachers Make a Difference
Social connections with classmates help all students develop and build self-confidence. Teachers who take time to reach out, recognize, and care for deaf and hard of hearing students are the ones who are remembered as having made an impact.


Accommodating Deaf and Hard of Hearing Students in Schools
The way the educational staff interacts and works with a deaf or hard of hearing student affects how other students, teachers, and administrators perceive that student. Modifications that make schools user friendly for all should be incorporated.


Reaching Out--Parents as Partners
Parents who advocate for their children improve the chances of their success in school. This is especially the case for deaf and hard of hearing students. Parents help their child's educational journey by providing critical knowledge of their child's unique abilities and accomplishments.