2016 issue - The Power and Potential of Collaboration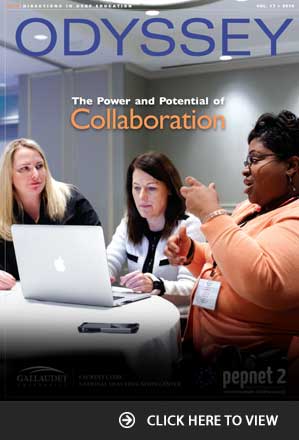 The 2016 issue of Odyssey was the result of a partnership between the Clerc Center and pepnet 2. It focuses on the importance of building collaborations at the national and state levels to support the education of deaf and hard of hearing students. In particular, the issue focuses on how collaborations can facilitate the successful transition of deaf and hard of hearing students from secondary education to postsecondary education and employment.
The issue includes 16 articles from a total of 32 professional and parent authors focusing on such topics as:
what collaboration is and why it's essential
how partnerships help with student transition and access
the challenges of maintaining partnerships over large distances
descriptions of resources and ways to tap into them and available networks
ideas for strengthening existing resources and networks
the importance of partnering with deaf and hard of hearing adults in deaf and hard of hearing students' education
why the education of children—especially children with disabilities—is a shared responsibility and requires cross-agency collaboration at all levels: federal, state, and local

Full Odyssey 2016 magazine is available,
download the PDF for free.
2016 Odyssey articles:

Collaboration: Definitions and Explorations of an Essential Partnership

By Mary Ann Kinsella-Meier and Nicholas M. Gala

Pepnet 2: Developing Collaborative Relationships for Effective Transition Services

By Marcia Kolvitz

Transition Through Teamwork: Professionals Address Student Access

By Sue Ann Bube, Carol Carrothers, and Cinda Johnson

Building and Maintaining Connection: Supporting Transition in a Rural State

By Ann Flannery, Paula Mason, and Janna Dunagan

By Theresa Johnson and John A. Serrano

Small Numbers and Big Spaces Call for a Team Approach in North Dakota

By Pam Smith and Bambi Lambert

Partnering, Collaborating, and Moving Ahead: Transition for Deaf and Hard of Hearing Students in Minnesota

By Elise Knopf and Mary Cashman-Bakken

The Power and Promise of a Handshake: Milestones in Collaboration

By Roslyn Rosen

By Luanne Barron, Stephanie Ray-Oyler, and Dana Lattin

New Hampshire: Collaboration Works for Professionals - and Students

By Michele Chaplen and Kelly Fleese

Collaboration and System Change: Pepnet 2 and the Road to New Opportunities

By Pauline Annarino

By Mary Held and Cindy Lawrence

Evaluative Thinking: Using Results-Oriented Reasoning to Strengthen Collaboration

By Courtney L. Malloy, Janet S. Lee, and Stephanie W. Cawthon

By Patrick Graham, Sara Kennedy, and Johanna Lynch

Reaching the Summit: Deaf Adults as Essential Partners in Education

By Bridgetta Bourne-Firl

By Michael K. Yudin