Area of Focus: Social and Emotional Well Being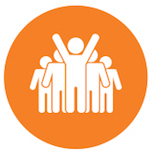 Furthering the knowledge of the social-emotional well-being of deaf and hard of hearing children and young adults was identified as a need by the Clerc Center's public input process and the National Priority Setting Meeting. The Public Input summary reports that while there considerable information about what deaf and hard of hearing children and young adults cannot do or do not do well related to their social-emotional well-being, little is known about the characteristics or strengths of those children who are happy and healthy.
Research in this area has historically had a "weakness-based" or mental-health focus (e.g., Fellinger et al., 2005; Fellinger et al., 2007; Fellinger et al., 2009) rather than a "strength-based" one. Emerging research suggests the importance of identifying the proactive emotional and social strategies successful deaf and hard of hearing young adults use to navigate daily challenges as well as those associated with critical milestones in their lives, such as transitioning from school to college and/or work (Cawthon, Schoffstall, & Garberoglio, 2014; Luft, 2013; Luft & Huff, 2011). Strength-based research specific to children who are deaf or hard of hearing suggests that variables such as self-control, sustained motivation, reframing negative thoughts, goal-oriented behavior, persistence, choosing social and professional settings that are a good fit, creatively learning proactive strategies, and resourcefulness may promote more healthy outlooks on life and greater overall happiness (Jacobs, 2012). Moving towards a strength-based approach would allow for investigation into the protective factors, resiliency factors, and positives of being deaf or hard of hearing.
Although societal challenges to social and emotional well-being of students who are deaf or hard of hearing may not be preventable, the Clerc Center seeks to provide these students and their families with tools and knowledge that can provide more positive social and emotional experiences. A strength-based focus on 'what works' offers a richer understanding of quality social participation, characteristics of healthy personality (e.g., Hintermair, 2008), and a better understanding of the key variables that educators can foster to ensure deaf and hard of hearing children can become resilient self-advocates and ultimately happy and healthy adults.
There is also a need to consider how professionals working with and teaching deaf and hard of hearing children can foster positive social emotional well-being for both the child and the family. The need for collaboration among professionals was often highlighted as essential to this effort. At the Clerc Center, the demonstration schools have recognized this by working to increase positive supports for students that ensure positive behavioral outcomes and implementing evidence-based programming aimed at reducing bullying and harassment (e.g., Olweus, PBIS).
The Clerc Center's focus on social and emotional well-being as part of its Research Agenda offers opportunities to better understand the whole child and family using a lens of strengths rather than deficits. Research in this area of focus has the potential to allow multiple disciplines (e.g., deaf education, special education, family engagement, child development) to consider deaf and hard of hearing children through a positive lens, something that has historically been lacking in the research. Results generated by efforts in this area will also support the Clerc Center's development of resources and information, including an online training designed to teach professionals how to foster social and emotional well-being in their students. Further, research will support the demonstration schools in maintaining their commitment to promoting positive behavior, reducing the prevalence of bullying, and fostering a positive sense of community.
The research questions below are intended to guide possible research efforts internally, externally, and collaboratively. These research questions may be addressed by the Clerc Center but are also shared in the hopes that other potential researchers consider these topics and their related needs within the field of deaf education.


What are the attributes that foster a positive sense of self leading to resiliency?
Are their current measures and instruments available to help school-based personnel understand a child's strengths rather than weaknesses? How can this recognition lead to greater social and emotional well-being?
Are school-wide intervention programs (e.g., Olweus, PBIS) designed to improve the socal-emotional health of deaf and hard of hearing students effective?
How does parent and/or educator self-efficacy and knowledge of deafness contribute to the social and emotional well-being of a student who is deaf of hard of hearing?
What is the role of parent and/or educator advocacy and expectations on academic success and persistence of a student who is deaf or hard of hearing?
Please contact us for inquiries or to explore research collaboration.