Area of Focus: Family Engagement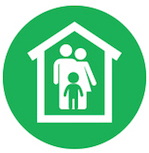 Promoting parental engagement and family-school partnerships emerged as a priority during both the Clerc Center's National Priority Setting Meeting and the KDES/MSSD school accreditation process. This need is consistent with current research and educational practices that indicate the importance of understanding and promoting consistent and substantial parental engagement as crucial to the academic, linguistic, and social-emotional development of young deaf and hard of hearing children. These sources further suggest that a better understanding of how parents perceive their engagement and how schools and professionals foster involvement can minimize barriers and maximize student success.
Family engagement research of school-aged deaf and hard of hearing children is limited. While research shows that early family involvement in early intervention programs is linked with later positive outcomes (Moeller, 2000), the impact of family engagement and its relationship to long term successes of deaf and hard of hearing children in school is not known or well understood. For parents of children who are deaf or hard of hearing, involvement and engagement is rooted in parental self-efficacy (Desjardin, 2006), knowledge of the unique needs of the child, successful mediation of the parental stress of raising a child with a disability (Raya, Ruiz-Olivares, Pino, & Herruzo, 2013), and the ability of parents to navigate their child's disability in the community and at school (Fishman & Nickerson, 2014). Current models (e.g., Dempsey-Hoover and Sandler) of family engagement and involvement and, ultimately, family-school partnerships may not fully consider these variables and thus may be incomplete for families of students who are deaf or hard of hearing, including those with disabilities. Furthermore, since children who are deaf and hard of hearing are also at risk for multiple disabilities (van Dijk, Nelson, Postma, & van Dijk, 2010), behavioral challenges (Barker et al., 2009), and academic challenges (Marschark & Knoors, 2012) the role of family engagement and family-school relationships may be complicated in its perception and actualization.
The Clerc Center believes parental engagement may be a key factor to long-term positive outcomes for deaf and hard of hearing students with disabilities. The Clerc Center's focus on family engagement offers opportunities to contribute to the expansion of research in multiple disciplines (e.g., deaf education, special education, family engagement, child development), particularly since gaps have been identified in the research addressing the engagement of families in the education of deaf or hard of hearing children with and without disabilities. Results generated by research in this area will also support the Clerc Center's use of evidence to develop resources and information related to family engagement and advocacy, including a Parent Advocacy Literature Review and development of a Parent Advocacy app. It will further assist the demonstration schools in selecting possible strategies to facilitate family engagement and enhance school climate.
The research questions below are intended to guide possible research efforts internally, externally, and collaboratively. These research questions may be addressed by the Clerc Center but are also being shared in the hopes that other potential researchers will consider these topics and their related needs within the field of deaf education.
How do parent engagement and parent-school partnerships impact the academic, emotional, or behavioral outcomes of a student?
What is the role of parent advocacy, and what are the variables that may influence a parent's ability, knowledge, and/or willingness to advocate for the needs of his or her child?
What are the perceptions of parents and professionals regarding family involvement and engagement, and how are these perceptions similar or different among these groups?
Is the current Hoover-Dempsey model of parental involvement an accurate model for families of children who are deaf or hard of hearing?
What school-based initiatives could yield positive parent-school partnerships for parents who do not feel knowledgeable about the needs of their child? How are the initiatives different than those for parents who feel more confident in their knowledge?
Are there any established tests of measures that would effectively measure parent engagement in the education or other critical aspects in the lives of children who are deaf or hard of hearing?
Please contact us for inquiries or to explore research collaboration.