Area of Focus: Educational Best Practices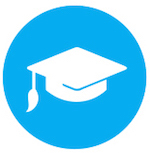 Professional development for educators new to working with children who are deaf and hard of hearing and for experienced educators addressing new standards, instructional practices, and related assessments was identified as a priority during the Clerc Center National Priority Setting meeting and for educators in the Clerc Center's demonstration schools.
The majority of professionals responsible for teaching or providing services to deaf and hard of hearing children are not deaf or hard of hearing and they likely have limited experience or training in working with students who are deaf or hard of hearing (e.g. Ferrell et al., 2014). This limited experience coupled with the ever-evolving demands of professionals creates further challenges to effectively plan for and meet the needs of individual students. Teachers experienced in working with deaf and hard of hearing students face their own challenges, included increasing accountability, a need to implement rigorous standards-based instruction and related assessments, and the ongoing move towards data-based decision making.
Current research poses significant gaps in the knowledge and understanding of what educational best practices are effective for specific subgroups of deaf and hard of hearing students from birth through high school (e.g., students exposed to sign language from birth vs. those who learn sign language later). There is a clear need for more qualified professionals, more resources, and a better understanding of how to adapt and implement evidence-based practices during academic instruction and early intervention. Some research is beginning to emerge identifying evidence-based programs and interventions that may be beneficial for children who are deaf or hard of hearing. For example, Ferrell et al. (2014), Marschark & Knoors (2012), and Luckner (2011) have all published in-depth summaries of evidence-based programs for reading, writing, and math for deaf and hard of hearing children. However, little is still known about school-wide implementation, efforts to make these practices more consistent across educators, and what progress that can be expected if programs are implemented with fidelity.
The Clerc Center's focus on educational best practice research would contribute to a better understanding of effective practice in the classroom, at school, and at home. Results in this area will support the Clerc Center's development of resources and information, including new training, workshops, and printed resources for professionals. Further, the research will assist the demonstration schools in their practice of using research and data to inform instruction and related student interventions.
The research questions below are intended to guide possible efforts internally, externally, and collaboratively. These research questions may be addressed by the Clerc Center but are also shared in the hopes that other potential researchers consider these topics and their related needs within the field of deaf education.
What are the current evidence-based strategies for reading and mathematics interventions that may be applicable for students who are deaf or hard of hearing? What are the necessary modifications, if any, to those intervention programs in order to yield positive results?
How can alternative classroom designs (e.g., grouping students by skills rather than grade, designing classrooms to capitalize on visual gain) assist in academic outcomes?
Are there any strategies that effectively mediate early intervention delivery services to foster long-term language development?
What is the role of new technology (e.g., LENA technology for spoken language; online testing vs. paper testing) in ensuring student outcomes are measurable?
Please contact us for inquiries or to explore research collaboration.