An Interpreted Education: What You Need to Know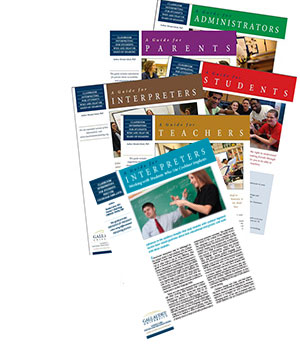 In this webcast, Dr. Brenda Schick and Andrea Sonnier discuss the state of K-12 educational interpreting. Their free-ranging conversation covers a variety of topics relevant to interpreting such as:
Concept of an interpreted education
Educational interpreter's IEP roles and responsibilities
Legal/educational issues with interpreting
Current research in the field
This webcast is designed for K-12 educational interpreters, parents, IEP coordinators, educators, and resource coordinators for deaf and hard of hearing students.
Download Transcript
Presenter bios

Dr. Brenda Schick


Brenda Schick, PhD, a professor at the University of Colorado Boulder, studies the development of spoken and sign language and its relationship to cognition in children who are deaf or hard of hearing. She has had National Institutes of Health and Institutes of Education Science grants investigating language and/or cognitive development in deaf and hard of hearing children. Schick developed the Educational Interpreter Performance Assessment (EIPA) and the EIPA Written Test. Both are nationally recognized tools for licensure and certification in the K-12 setting. She also developed a website for educational interpreters (www.classroominterpreting.org). Both the tests and the website are managed by Boys Town National Research Hospital.

Schick is currently a member of a research center that focuses on literacy and young deaf and hard of hearing children. A major focus of her contribution is the development of an intervention to improve fingerspelling in young deaf and hard of hearing children that is now being tested across the United States. She has also served as the school board president for an ASL/English school for children who are deaf or hard of hearing and is a former teacher of the deaf. Schick grew up in a culturally deaf family, is fluent in American Sign Language, and is a former certified interpreter of the deaf.

Andrea Sonnier

Andrea Sonnier devotes her time to teaching and learning from students, families, and professionals involved in the field of DeafEducation on topics related to social justice. She is currently a doctoral candidate in the Deaf Education PhD program at Gallaudet University. With a focus on K-12 education, Andrea studies issues of educational equity including critical curriculum, critical consciousness, praxis, and compassionate practices among teachers and students with multiple intersecting identities.