Spoken Language Habilitation: Considerations, Strategies, and Resources
About Spoken Language Habilitation
The process of developing skills related to listening, speech, and spoken language will differ for each child who is deaf or hard of hearing depending on a variety of factors. This variation is related to such influences as: the child (i.e. was the child born deaf or hard of hearing, or did the child become deaf or hard of hearing at an age after language was already acquired? ); use of listening technology (i.e. what level of benefit does a child receive in relation to understanding spoken language from use of a hearing aid or a cochlear implant?) and is amplification used consistently; and family characteristics (i.e. goals and supports provided to support spoken language).
It is important that specialists involved in providing spoken language habilitation services be knowledgeable professionals with cross-disciplinary skills in three primary areas: audiology, speech-language pathology, and education of children who are deaf. The professionals should have training and experience with the development of auditory, speech, and language skills for children who are deaf and hard of hearing and demonstrate proficiency in the communication mode that the child uses. For more information about the competencies of professionals trained to work with students who are deaf and hard of hearing, see:
Development of spoken language skills may be addressed in individualized therapy sessions, integrated into the child's natural environments (home or classroom), or a combination of both. It is important to identify which environments will best meet the needs of a child in facilitating goals and objectives for listening, speech, and spoken language skill development. The role of service providers may include working directly on skill development with students (or groups of students), or coaching family members, teachers, or other individuals who spend time with the child so they can best facilitate skill development in the child's daily environments. Family education is essential to a) helping families understand the multiple factors which impact spoken language development and outcomes, and b) empowering families with the skills to facilitate their child's auditory, speech, and spoken language skills.


Planning
It is important to consider each child individually when making decisions about appropriate auditory, speech, and spoken language development goals. Planning should involve a team approach including family members, audiology and speech professionals, teachers, and other specialists involved in the child's educational programming. The process for planning should begin with gathering critical background information that will impact identification of goals (i.e. hearing levels, type of listening technology used, etc.), and a comprehensive evaluation to assess the child's current oral/aural skills. It is helpful to develop a profile of each child's background characteristics and skills to guide recommendations for individualized skill development and a plan for how to address spoken language use in the classroom and other natural environments. Documentation of a child's plan can be integrated into the Individual Family Service Plan/Individual Educational Plan (IFSP/IEP) processes. It is essential that the planning process include a monitoring component to determine if a child is achieving the identified goals, and to adjust goals and strategies as needed.
What Is Involved?
Developing competence in spoken language involves development of a wide variety of skills. This includes training of specific listening and speech skills, as well as other areas that impact a child's overall language, communication, and literacy development (i.e. use of mouth movements to approximate words, making connections between mouth movements and print, expanding knowledge of written and spoken English grammatical structures, development of pragmatic communication skills, etc.)
There are many prerequisite skills a child must develop before he or she will be able to understand and use spoken language. The following progression details a typical hierarchy a child may follow in learning to understand and communicate through spoken language. How far and how quickly a child progresses is individual to the characteristics of each child.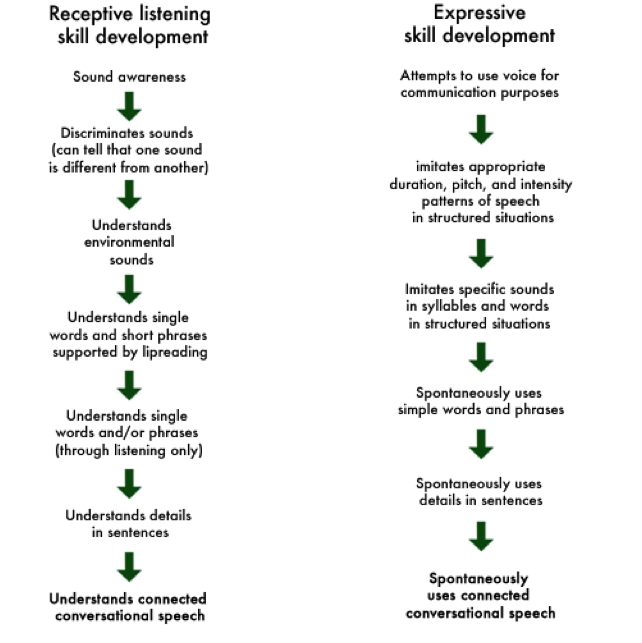 In addition to skill development directly related to listening and speaking, other skills to address include:
Pragmatics – These skills include but are not limited to: establishing and maintaining eye contact, taking turns (during games and conversations), maintaining a topic, sequencing ideas, beginning and ending conversations , taking the listener's perspective, understanding social vocabulary, and understanding non-literal language (e.g. sarcasm, words with multiple meanings, jokes).
Speechreading – These skills include reading lips, plus associated facial expressions of a speaker. Another feature of speechreading training can also be training students to "mouth" the words and phrases.
For more information about listening, speech, and spoken language development: Alexander Graham Bell Association: Listening and Spoken Language Knowledge Center


Facilitating Learning through Listening
It is important for individuals who communicate with a child, to understand their auditory functioning abilities and incorporate strategies to guide the child in deriving meaning from sound. Learning how to adjust communication variables is central to the concept of auditory habilitation/rehabilitation in both individual therapy sessions and in the natural environment. The listening difficulty of a communication experience can be adjusted so a child can have success in listening at his or her level. The listening experience can also be adjusted to provide increasing challenges to the listening situation so the child can improve his or her listening.
When the following factors related to the content and/or presentation of information are controlled during either a structured listening activity or in the natural environment, any listening situation can be designed to be either readily accessible or challenging.
These content-related factors can be modified:
the familiarity of vocabulary,
the number of items in a choice set (e.g., three choices, four choices, open set),
the acoustic contrast of items in a choice set (e.g., shoe versus elephant), and
the number of critical elements (e.g., big red shoe, ball under the bed).
These presentation-related factors can be modified:
the rate of presentation,
the acoustic highlighting (e.g., emphasis on key words),
the visibility of a carrier phrase (e.g., a phrase leading up to a key word or words), and
the number of repetitions.
Another beneficial strategy to assist children in deriving meaning from sound is the "sandwich" technique. The sandwich technique involves linking information sequentially via auditory and visual modes. Two examples of the sandwich technique are as follows:
auditory-visual-auditory: say it-sign it-say it or say it-say it adding speechreading-say it
visual-auditory-visual: sign it-say it-sign it-say it adding speechreading-say it-say it using speechreading


Resources
Checklists and Questionnaires
Here are a few of the formal and informal tools available to assist in gathering information about a child's spoken language abilities.
Auditory, Speech, and Spoken Language Guides
There are published guides available to provide a framework for the development of listening, speech, and spoken language skills. While various guides may propose a full program to follow, it is not necessary to fully use any one guide. There may be helpful hints and activities to gather from various guides. Skill development does not need to follow a cookbook approach. Determining effective strategies will be individual to each child. For skills to be beneficial in the child's life, these skills must be integrated and supported within the child's natural environment.
For more resources about habilitation specific to children with cochlear implants (but also applicable for children using hearing aids), see the module on Training the Ear To Listen in: Cochlear Implants: Navigating a Forest of Information…One Tree At a Time.


Online Supports
This website provides a wealth of free, educational computer games and activities for elementary students.
This website includes mini-lessons for learning English as a second language.
This resource is designed for families who do not have access to a qualified therapist to help their child acquire spoken communication skills.
This subscription allows access to hundreds of printable listening and language activities. Listening Tree has a Spanish version with Spanish weekly activities.
This free website teaches children to read with phonics. It is intended for preschool, kindergarten, and first grade, and includes phonics games and on-line, interactive books.
This company offers iPad apps for auditory and speech habilitation.