Literacy: It All Connects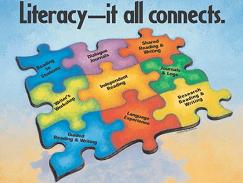 The Clerc Center's beliefs about the importance of language and communication in the development of students' literacy skills are the foundation of our literacy program. Through a review of best practices in reading and writing, we have identified nine practices that create a comprehensive approach to literacy learning. These include dialogue journals; shared reading and writing; other journals and logs; independent reading; guided reading and writing; reading to children; language experience; writers' workshop; and research reading and writing. Creating an ideal learning environment with high expectations for all students is the goal of incorporating all nine areas into a comprehensive approach.
"Schools can help all children become independent readers and writers through a balanced literacy program. The components of a balanced literacy program include reading aloud, shared reading, guided reading, independent reading, modeled/shared writing [dialogue journals and journals and logs], interactive writing [language experience], and independent writing [writer's workshop and research reading and writing]."
-Debra Johnson
North Central Regional Educational Laboratory (NCREL), 1999
Balanced Literacy Research
The nine areas of literacy adhere to the best practices in reading and writing that have been found in schools across the nation. Best practices in education pertain to a school reform movement of teachers, educational researchers, and professional organizations that seek to determine and document effective teaching practices in schools around the country.
According to Zemelman, Daniels, and Hyde (1998), "All the people in this alternate, uncoordinated reform movement-teachers, instructional researchers, professional associates, subject-area leaders-have been rethinking the substance, content, processes, methods, and dynamics of schooling. As a result, in virtually every school subject, we now have recent summary reports, meta-analyses of instructional research, reports from pilot classrooms, and landmark sets of professional recommendations. Some of these reports were produced with funding from the U.S. Department of Education, while others were independent and self-financed. Taken together, this family of authoritative documents provide a strong consensus definition of Best Practice, of state-of-the-art teaching in every critical field" (pp. 4).
Whether from the National Council of Teachers of English (NCTE), National Council of Teachers of Mathematics (NCTM), the Center for the Study of Reading, the National Writing Project, the National Council for the Social Studies, the International Reading Association (IRA), the American Association of the Advancement of Science (AAAS), and the National Association for the Education of Young Children, the same common recommendations are suggested.
They characterize the best practices as being:
student-centered
experiential
holistic
authentic
expressive
reflective
social
collaborative
cognitive
developmental
constructivist
challenging
Their recommendations are found in Best Practice: New Standards for Teaching and Learning in America's Schools (Zemelman, Daniel, & Hyde, 1998), pages 54, 84. The following charts that list the recommendations on teaching reading and writing provide a useful reference for teachers in developing a reading and writing program in the classroom.
Recommendations on Teaching Reading
Increase
Decrease
Reading aloud to students
Time for independent reading
Exclusive emphasis on whole-class or reading-group activities
Children's choice of their own reading material
Teacher selection of all reading materials for individuals and groups
Exposing children to a wide and rich range of literature
Relying on selections in basal reader
Teacher modeling and discussing his/her own reading processes
Teacher keeping his/her own reading tastes and habits private
Primary instructional emphasis on comprehension
Primary instructional emphasis on reading sub-skills such as phonics, word analysis, syllabication
Teaching reading as a process:
Use strategies that activate prior knowledge
Help students make and test predictions
Structure help during reading
Provide after-reading applications
Teaching reading as a single, one step act
Social, collaborative activities with much discussion and interaction
Solitary seatwork
Grouping by interests or book choices
Grouping by reading level
Silent reading followed by discussion
Round-robin oral reading
Teaching skills in the context of whole and meaningful literature
Teaching isolated skills in phonics workbooks or drills
Writing before and after reading
Little or no chance to write
Encouraging invented spelling in children's early writings
Punishing pre-conventional spelling students' early writings
Use of reading in content fields (e.g., historical novels in social studies)
Segregation of reading to reading time
Evaluation that focuses on holistic, higher-order thinking processes
Evaluation focus on individual, low-level sub-skills
Measuring success of reading program by students' reading habits, attitudes, and comprehension
Measuring the success of the reading program only by test scores
Recommendations on Teaching Writing
Increase
Decrease
Student ownership and responsibility by:
-helping students choose their own topics and goals for improvement
-using brief teacher-student conferences
-teaching students to review their own progress
Teacher control of decision making by:
-teacher deciding on all writing topics
-suggestions for improvement dictated by teacher
-learning objectives determined by teacher alone
-instruction given as whole-class activity
Class time spent on writing whole, original pieces through:
-establishing real purposes for writing and students' involvement in the task
-instruction in and support for all stages of writing process
-prewriting, drafting, revising, editing
Time spent on isolated drills on "sub-skills" of grammar, vocabulary, spelling, paragraphing, penmanship, etc. Writing assignments given briefly, with no context or purpose, completed in one step.
Teacher modeling writing--drafting, revising, sharing--as a fellow author and as demonstration of processes
Teacher talks about writing but never writes or shares own work
Learning of grammar and mechanics in context, at the editing stage, and as items are needed
Isolated grammar lessons, given in order determined by textbook, before writing is begun
Writing for real audiences, publishing for the class and for wider communities
Assignments read only by teacher
Making the classroom a supportive setting for shared learning using:
-active exchange and valuing of students' ideas
-collaborative small-group work
-conferences and peer critiquing that give responsibility for improvement to authors
Devaluation of students' ideas through:
-students viewed as lacking knowledge and language abilities
-sense of class as competing individuals
-work with fellow students viewed as cheating, disruptive
Writing across the curriculum as a tool for learning
Writing taught only during "language arts" period--i.e., infrequently
Constructive and efficient evaluation that involves:
-brief informal oral responses as students work
-thorough grading of just a few of student-selected, polished pieces
-focus on a few errors at a time
-cumulative view of growth and self-evaluation
-encouragement of risk taking and honest expression
Evaluation as negative burden for teacher and student by:
-marking all papers heavily for all errors, making teacher a bottleneck
-teacher editing paper, and only after completed, rather than student making improvements
-grading seen as punitive, focused on errors, not growth
Each of the nine areas of literacy in the Literacy-It All Connects program is based on research with what is best for the general population. At the Clerc Center, we have been looking at each of these areas, and seeing what research are available for deaf and hard of hearing students.
According to Debra Johnson in Balanced Reading Instruction: A Review of Literature(1999), "Schools can help all children become independent readers and writers through a balanced literacy program. The components of a balanced literacy program include reading aloud, shared reading, guided reading, independent reading, modeled/shared writing [dialogue journals and journals and logs], interactive writing [language experience], and independent writing [writer's workshop and research reading and writing]."
For more information about the research behind each of the nine areas, please go to the Supportive Research and Description Literature in each of the areas.
For more information about Balanced Literacy, please visit these sites (clicking on these links will take you outside of the Clerc Center website):

Issues in Literacy Development
Reading Recovery Council

Clerc Center Publications:
Literacy - and the Family, Odyssey, Summer 2000

Well, What Do You Expect? (Perspectives, January-February 1995) (PDF)
Clerc Center Resources: (catalog)
Literacy-It All Connects Manual
Literacy-It All Connects Poster
Best Practices (See: Archives)
Ideal Learning Environment (See: Archives)